The augusta golf course is located in augusta, georgia. united states and is one of the famous courses in the world. Tiger woods played there for the 2013 masters so we decided to make a section for these augusta national hd wallpapers for desktop in 1920×1080 including the club too. It is one of the most famous and scenic in the history of golf so its no wonder why it draws so much attention. Im no good at the sport but if i was i would love to hit a few golf balls around there someday, who knows maybe i will.
At augusta national you will find magnolia lane that goes from the entrance to the clubhouse. There are 61 trees down the side of magnolia lane and its said they have been growing since 1850. Each year the masters are played there and i hope you are all watching this year for the 2014 tournament. In the meantime just enjoy these hd wallpapers of one of the favourite courses of all time in golfing history.
The course will usually be closed from May through to October and is a nice 140 ha in size. Its green fees are a cool $1000 and go to the club and the charity called "grow the game".
Holes Of Augusta National Golf Course Aerial View Images
here's a nice aerial view of the augusta national golf course displaying the holes 1-18 in an image.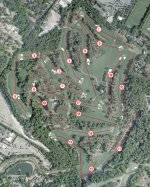 Aerial flyover video of the augusta national golf course
here's an aerial flyover video from youtube that goes for 7:34 showing you the different holes and the beauty of the area.
"Schon lebendige golfplatz tapete" means beautiful vibrant golf course wallpaper in german and the last image isn't of augusta but its that good i had to include it.